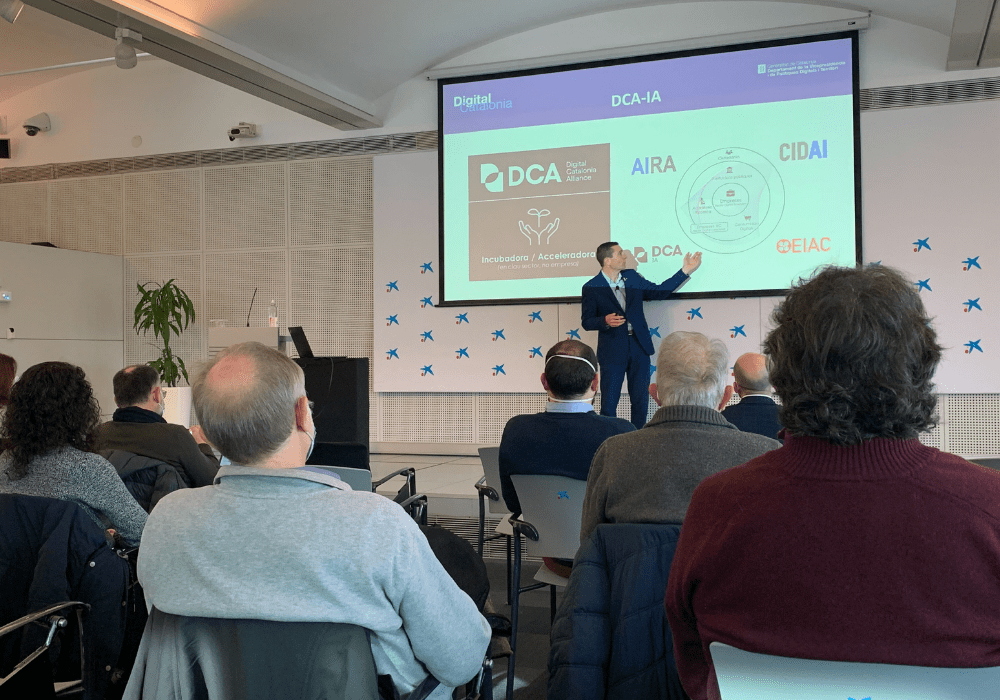 La Comunitat es va presentar el 21 de desembre en una jornada en format híbrid on es van explicar els objectius, serveis i calendari d'activitats per al 2022

La jornada va començar amb la benvinguda institucional i actualització de l'estat d'implementació de l'estratègia d'Intel·ligència Artificial a càrrec de Daniel Marco, director general d'Innovació i Economia Digital de la Generalitat de Catalunya.
Seguidament, Ana Freire, doctora en Ciència Computacional i directora de l'Àrea de Tecnologia de la UPF-Barcelona School of Management, va presentar projecte de recerca STOP PROJECT. Es tracta d'un projecte on s'aplica la intel·ligència artificial a les xarxes socials per identificar i caracteritzar problemes de salut mental.
Marco Orellana, manager del Centre of Innovation for Data tech and Artificial Intelligence, va exposar les conclusions de l'enquesta a l'ecosistema Intel·ligència Artificial 2021. Finalment, Àngel Martín, manager d'innovació en IA a l'Àrea de Distributed Artificial Intelligence (DAI) a la Fundació i2CAT, va compartir la missió, els objectius, el catàleg de serveis i el calendari d'activitats per al 2022 de la Comunitat d'Intel·ligència Artificial.
Es poden visualitzar de nou totes les intervencions aquí: