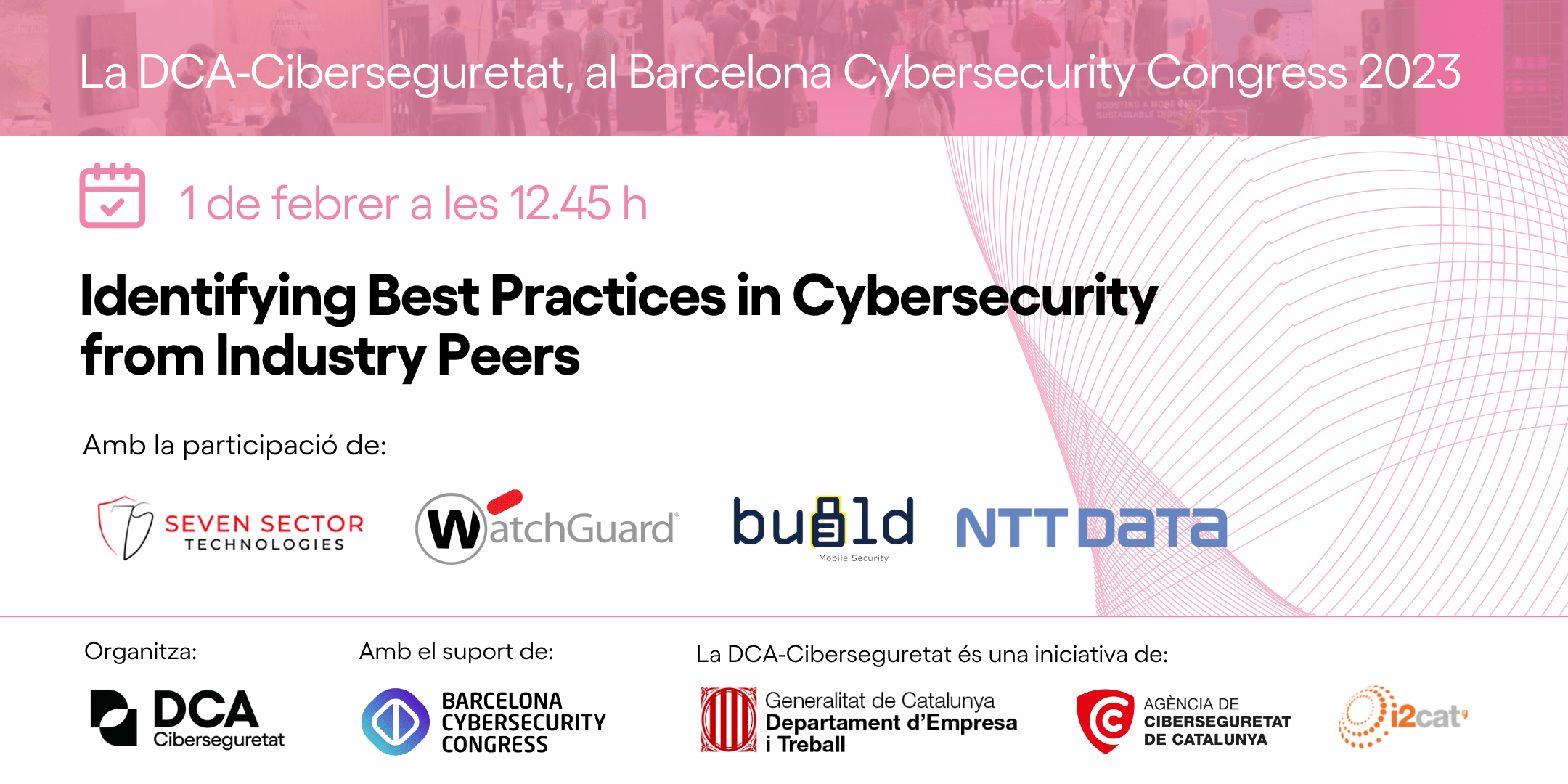 February 1 2023
at 12:45h.
Identifying Best Practices in Cybersecurity from Industry Peers
Presencial
---
Dins del marc del Barcelona Cybersecurity Congress es presentaran diferents casos d'èxit impulsats per membres de la comunitat de Ciberseguretat de la DCA. La jornada se celebrarà l'1 de febrer de 12.45 h a 13.30 h a l'Espai Hacking Village del BCN Cybersecurity Congress. Els quatre casos d'èxit que es presentaran són projectes i/o col·laboracions en l'entorn de la ciberseguretat amb impacte a escala nacional i/o europea:
"Automated Security Incident Response", a càrrec de NTT Data
L'empresa NTT DATA ha treballat juntament amb una

empresa del sector de les telecomunicacions

com les automatitzacions permeten la millora dels temps de resposta i reducció de necessitat de personal per a alertes de baix risc.
"A success story of technological innovation for inclusiveness and working eGovernment", a càrrec de Build38


La start-up Build38 presentarà la primera solució d'implementació d'eIDAS (Electronic IDentification, Authentication and trust Services) en dispositius mòbils. Un software inclòs en l'aplicació Identity que permet un eID intel·ligent amb el qual cada ciutadà de la UE el podrà utilitzar en qualsevol telèfon mòbil i així resoldre un dels principals reptes que té la UE pel que fa als ID electrònics: la participació dels seus ciutadans en els serveis digitals d'administració electrònica. 

"Extended Detection and Incident Response (XDRNet)", a càrrec de Seven Sector Technologies


La start-up Seven Sector Technologies ha desenvolupat una nova tecnologia sota el model de seguretat Reactiva i Resiliència, basat en la Detecció Avançada i Resposta Estesa (XDRNET).

Això permet detectar amenaces en temps real i aïllar l'equip infectat sense necessitat d'interactuar amb ell. El fet que no sigui necessari instal·lar cap agent fa possible un desplegament ràpid, econòmic i efectiu.

"Cybersecurity in distributed environments – Mr. Wonderful case", a càrrec de Mr. Wonderful i WatchGuard Technologies
L'empresa WatchGuard parlarà de com MR.WONDERFUL està gestionant la ciberseguretat en aquests centres, com es protegeix davant les ciberamenaces i com els Partners de valor com SERCOM CLOUD & SUPPORT, gràcies a la tecnologia d'un fabricant especialitzat en ciberseguretat: WatchGuard Technologies, ajuden durant tot aquest procés.
La jornada s'emmarca en el conjunt d'activitats de la DCA-Ciberseguretat organiza en el al Barcelona Cybersecurity Congress, que se celebra del 31 de gener al 2 de febrer al Recinte Fira Barcelona Gran Via. El Barcelona Cybersecurtiy Congress, organitzat per l'Agència de Ciberseguretat de Catalunya i Fira Barcelona, és l'esdeveniment líder en l'àmbit de la ciberseguretat Catalunya i un punt de trobada per compartir i trobar solucions reals a reptes i necessitats del sector.  
Programa
12:45 h – Benvinguda
12:50 h – "Automated Security Incident Response"
13:00 h – "A success story of technological innovation for inclusiveness and working eGovernment"
13:10 h – "Extended Detection and Incident Response (XDRNet)"
13:20 h – "Cybersecurity in distributed environments: Mr. Wonderful case"
13:30 h – Fi de la jornada